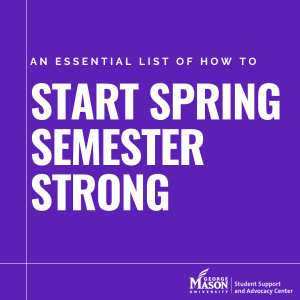 We are about to begin our third semester during a worldwide pandemic. As this is the third semester under these conditions, we may have adjusted a bit to our circumstances, but that does not mean that this isn't a difficult time to be students. As we come back from a long and needed winter break, we face the reality that classes will begin (some online and some in person) and that we need to start preparing ourselves for success. Here are 6 tips on how to start the semester strong!
C

reate a sleep schedule.


As most students do when on break

,

sleep is taken over by binge-watching Netflix, chatting with friends, and the freedom of not having assignments due.

As we prepare for this semester, try to spend the next few weeks before classes adjusting your body to a sleep schedule that will set you up for success. Consider what time your classes start, w

hether they are online or on campus, and start setting your alarm to the time you will have to be up for them. Try to go to bed at a time that will be

conducive

to

waking up ready to learn.

The Center for Disease Control recommends that College Students get at least 7 hours of sleep a night

(CDC)

, but we all have different needs so please do what is best for you.

Organize a Planner (include important dates)


I recommend the ones that have a monthly page and then a large section for each day so that you can put

important due dates, like exams and papers, on the monthly calendar and then weekly assignments in the day sections.

Once you receive your class syllabi you can go through your agenda and add in those assignments (You may want to use pencil as d

ue dates can change)

.

You can also use planners or agendas to write down your goals for this semester!

Set up a study space

.

Whether you are taking your classes online or attending in person, you will still be doing quite a bit of work at home. Designate a study space for yourself that will be conducive to learning.

That can be a desk, kitchen table, or anywhere that you are comfortable and able to focus in on your work. It is recommended that you not work in your bed as that

is a

place for your body to rest and relax, but

if there is anything this pandemic has taught us,

it is to do what is best for you an

d

your bod

y

with wha

t is available to you.

Block out time for self-care.


It is so important to listen to your body and to take care of it no

w more than ever. One part of that is to do

self-care

.

Self-Care

can be whatever you need

i

t to be. For some it is coloring, taking a bath with essential oils,

or just taking a nap. It can also be putting your phone away for an hour, going for a walk, and watching an

episode of your favorite show. Try to set aside time each week for you to do an activity that you find relaxing or comforting.

You can block that time out in your planner so you can get into a schedule.

Identify your support system.




Whether you are returning to

campus

for the semester or

will be virtual, now is a good time to reach out to your friends, compare schedules to

see who you know in your classes, and talk to each other about how you are feeling about this semester. Covid has taught us that you do not have to see people

p

hysically to be ther

e for them

. Schedule zoom game nights or watch parties

with friends

as a

way to

stay close and lean on each other.

SSAC is also here to support you, please feel welcome to reach out to us!

Order your textbooks and school supplies.




As you

prepare for your classes to start be sure to check in with your professors for a list of course materials.

Organize what supplies you have left over from last semester and make a list of what you still need.

Order what you need and as it arrives organize it around your designated study space so that you can study effectively.

Remember the library on campus or in your community may have

some resources for you to use!
These are just a few ways to prepare yourself for this next semester. As classes begin, if you find yourself in need of support, please reach out to SSAC by visiting https://ssac.gmu.edu and selecting the request a meeting tab. We are here for you!
-Catherine BSW Advocate Intern